Tim and Joana's Wedding
Saturday, 04 October, 2003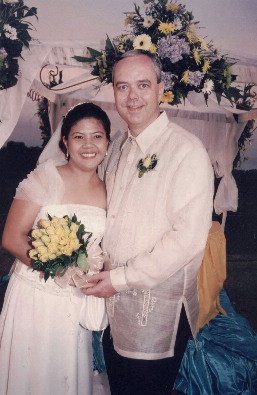 Mr. and Mrs. Timothy B. Totten!



Welcome to Tim and Joana's wedding page!

Several more wedding pictures were posted on 15 November, 2003. Be sure to check them out.

Also, please see the photos posted by our official photographer, Marco Abesamis.

Our wedding took place at four o'clock in the afternoon, Saturday, 04 October, 2003, in the garden of the Days Hotel, Tagaytay, Philippines. Tagaytay is a beautiful mountain resort area located about 1.5 hours south of Metro Manila. Due to the elevation, Tagaytay's weather is typically much cooler than most of the rest of the Philippines, and the weather for the wedding was just perfect! Take a look at some pictures from Days Hotel, taken by Tim and Joana a few weeks before the wedding.
A reception immediately followed the wedding, and a good time was had by all!
It is customary in the Philippines to have several principal wedding sponsors or witnesses, known in Tagalog as ninongs (male) or ninangs (female). There are also a number of secondary sponsors, each responsible for performing key parts of the ceremony--the candle, veil and cord. Candle sponsors light two candles, which the bride and groom then use to light a single candle, symbolizing the joining of the two families and invoking the light of Christ in their married life. Veil sponsors place a white veil over the bride's head and pin it to the groom's shoulders, a symbol of two people clothed as one. Cord sponsors drape the yugal (a decorative silk cord) over the shoulders of the bride and groom, symbolizing everlasting fidelity. The groom also gives the bride 13 coins (called arrhae) as a sign of dedication to his wife's well-being and the welfare of their family. Traditional attire for men at a Filipino wedding is the barong tagalog and formal dresses for the ladies (any color except black).
Tim and Joana would like to thank their parents . . .
| | |
| --- | --- |
| Mr. Richard B. Totten | Atty. Cirilo P. Baylosis (d) |
| Mrs. Juanita M. Totten | Atty. Milagros H. Baylosis |
and all the members of the bridal entourage . . .
Principal Witnesses
| | |
| --- | --- |
| Governor Hermilando I. Mandanas | Mrs. Charito F. Padua |
| Former Congressman Conrado Apacible | Atty. Milagros A. Somera |
| Former Mayor Librado Cabrera | Atty. Teresita Suarez |
Best Man
Mr. Mark Steven Williams
Matron of Honor
Mrs. Mary Tamra Brown
Secondary Sponsors
Candle
Engr. Victor H. Baylosis
Mrs. Rosalie M. Baylosis
Veil
Mr. Fernando H. Baylosis
Mrs. Milani B. Baylosis
Cord
Mr. Cirilo H. Baylosis, Jr.
Mrs. Imelda C. Baylosis
Ring Bearer
John Perpetou B. Jose
Coin Bearer
Victor Emmanuel M. Baylosis
Flower Girl
Christine Emiliane C. Baylosis
Tim and Joana spent their honeymoon in Thailand--including Bangkok and the Krabi region in the southern part of the country. As a member of ASEAN, Thailand is one of the few countries that Filipinos can easily visit without huge visa hassles. And with current exchange rates, it's quite a bargain, which is a good thing after all the other travel, wedding and legal expenses!
After nine months of paperwork, lawyers, interviews, physicals and piles of red tape, Joana and Phivocs were finally able to immigrate to the United States on 16 July, 2004. The new family now makes their home in Louisville, Kentucky, Tim's home town.
---

---
Last modified 18 December, 2012 by Tim Totten, n4gn@n4gn.com.
Copyright © 2003-2012 Tim Totten, N4GN. All rights reserved.